Welcome
At Valence Primary School every child matters. We aim to create a happy, healthy, safe and secure learning environment. we encourage all children to become independent, lifelong learners and achieve their full potential. We positively promote caring attitudes, respect and responsibility towards each other, the environment and the wider community.
Our aims
At Valence Primary we aim to create a school where PRAISE is a central to our aims.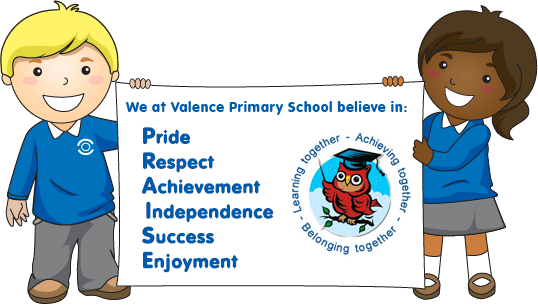 Pride in providing quality teaching and learning within a stimulating, challenging, creative and inclusive curriculum.
Respect, honesty, tolerance and good behaviour are values we foster.
Achievements are celebrated and built on.
Independence, confidence, self motivation and pride are encouraged.
Success and high standards are expected and promoted.
Enjoyment in learning for everyone.
We recognise the commitment of parents, staff and governors in developing a positive partnership. Our children will be able to learn together, achieve together and belong together and we will be well prepared to meet the challenges of an ever changing world.