At Valence Primary we aim to create a school where PRAISE is central to our aims.
We recognise the commitment of parents, staff and governors in developing a positive partnership. Our children will be able to learn together, achieve together and belong together and will be well prepared to meet the challenges of an ever changing world.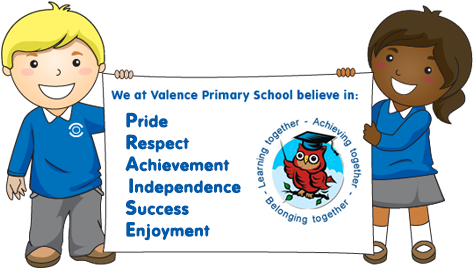 December Science Challenge
Get involved in our December Science Challenge - How are craters formed.
Read more ...
Mobile Phone Advice for Parents & Pupils
As we have been back at school now for nearly a term, we would like to share some helpful information regarding mobile phones and primary age children.
Read more ...
December 2020 Newsletter
Keep up to date with news from across both sites and upcoming events with our monthly newsletters.
Read more ...
Science fun for National Tree Week
Have some fun at home with these science activities from Science Sparks and the Primary Science Teaching Trust for National Tree Week which runs from 28th November to 6th December.
Read more ...
Apply for a Reception School Place
Admissions are open and you can apply online now for a reception place at Valence Primary School.  
Read more ...
LBBD Prevent Parent guide
Download the LBBD Prevent Parent guide for advice on keeping children safe from exploitation online.
Read more ...
Book Fair Orders
The children have all had a chance to see the books and have until Tuesday 8th to send in their order forms.
Read more ...
LBBD Self Isolation guide for Parents
You can download the LBBD Self Isolation guide for Parents here.
Read more ...
Star of the Week 20/11/2020
Well done to all of our 'Star of the Week' pupils from the week ending 20th November 2020. Keep up the good work.
Read more ...