At Valence Primary we aim to create a school where PRAISE is central to our aims.
We recognise the commitment of parents, staff and governors in developing a positive partnership. Our children will be able to learn together, achieve together and belong together and will be well prepared to meet the challenges of an ever changing world.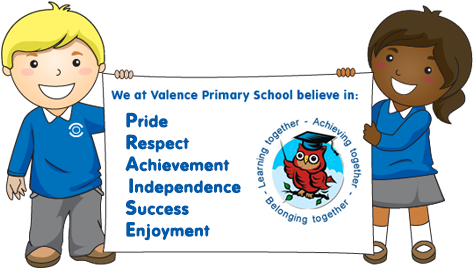 Risk Assessment (18th September) & Home School Agreement
We trust that you have managed to make the best use of the summer holidays this year.
Read more ...
Before and After-school Care at Valence
It is not too late to book a place for your child at our Breakfast or Afterschool (GEMS) club, as we have spaces available.
Read more ...
Translation of Guidance for Parents with Children in School
The department of Education has translated its guidance for parents and carers with children in nursery, school, or college in the autumn term.
Read more ...
Help for Parents Struggling with Stress
Talking therapies is now offering help for parents struggling with stress.
Read more ...
Class Dojo Protocol for Parents
Here is the protocol for the use of the ClassDojo system, which we hope will improve communication between home and school.
Read more ...
Public Health Safety Guidelines
In light of advice from the local Director of Public Health, we are asking for you to work with us to increase our safety measures.
Read more ...
Star of the Week 11/09/2020
Well done to all of our 'Star of the Week' pupils from the week ending 11th September 2020. Keep up the good work.  
Read more ...
After School Clubs
Don't forget to return any after school club applications by Tuesday 22nd September.
Stubbers 2020
You can download all the documentation we have sent out regarding our Stubbers 2020 trips here.
Read more ...