At Valence Primary we aim to create a school where PRAISE is central to our aims.
We recognise the commitment of parents, staff and governors in developing a positive partnership. Our children will be able to learn together, achieve together and belong together and will be well prepared to meet the challenges of an ever changing world.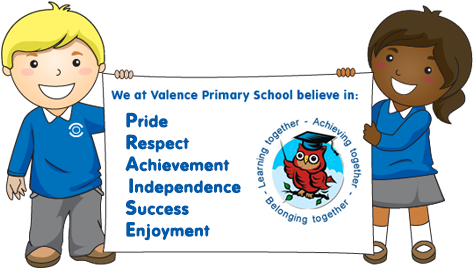 Number Day 2020
We are delighted to be supporting the NSPCC by taking part in their Number Day on Friday 7th February 2020.
Read more ...
January 2020 Newsletter
Keep up to date with news and events at Valence with our monthly Newsletters. 
Read more ...
Redbridge Cycle Centre January 2020
A group of children from St George's kept the cold at bay by working extra hard during their cycling session at Redbridge Cycle Centre. 
Read more ...
Star of the Week 17/01/2020
Well done to all of our 'Star of the Week' pupils from the week ending 17th January 2020. Keep up the good work.  
Read more ...
BBC Writing Competition '500 Words'
The UK's largest story writing competition for kids is back for its tenth year. Here's everything you need to know to get involved. 
Read more ...
Applying for School Spaces Online
Please note that from 21 January 2020, if parents need help to apply online for school places - help sessions will only be available on a Thursday. Sessions will be held both at Barking Learning Centre and the Dagenham Library on Thursdays from 9am until 4:30pm. 
 
Half Term Holiday Club
Future Youth Zone offers a safe and affordable youth facility for junior aged young people on school holidays, with fantastic activities on offer every single day including a host of sports, games, arts and crafts, and cooking sessions!
Read more ...
Big Garden Birdwatch 2020
You can take part in the world's largest wildlife survey on 25-27 January and do something great for nature.
Read more ...
Young Carers Awareness Day
Young Carers Awareness Day, Friday 31st January 2020. 'Wear something Yellow' to support young people who care.
Read more ...