At Valence Primary we aim to create a school where PRAISE is central to our aims.
We recognise the commitment of parents, staff and governors in developing a positive partnership. Our children will be able to learn together, achieve together and belong together and will be well prepared to meet the challenges of an ever changing world.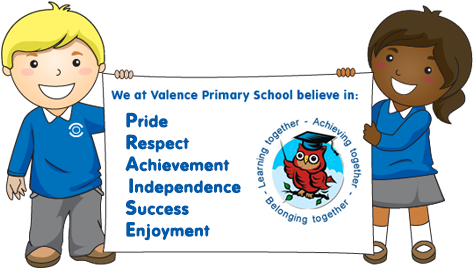 Half Term Break
Just a quick reminder that school breaks up for half term today!

Children will finish at normal home time (3:00 - 3:10 pm). Tomorrow (Friday) is an Inset today, please DO NOT send your child/ren into school.

School will re-commence on Monday, 2nd November - enjoy the holidays, please take care of yourselves and stay safe.


Starting Times at St. George's
There will be a change in school start and finish times at our St.George Site from Monday 2nd November.
Read more ...
Active-Learn Maths Resources
You can download the guides to our latest Active-Learn maths resources aa well as their accompanying letter home here.
Read more ...
Risk Assessment (18th September) & Home School Agreement
We trust that you have managed to make the best use of the summer holidays this year.
Read more ...
Homework
Class teachers will be setting homework from next week, blending the knowledge we gained during lockdown in regard to remote learning with our Pick 'n Mix approach, that we had in place previously.
Read more ...
Star of the Week 09/10/2020
Well done to all of our 'Star of the Week' pupils from the week ending 9th October 2020. Keep up the good work.
Read more ...
The Warren School Virtual Open Evening
As you are aware, due to Government Covid-19 restrictions, Open Days/Open Evenings will not take place in secondary schools.
Read more ...
October Science Challenge
Get involved in our September Science Challenge, static electricity and material properties: Jumping fish.
Read more ...
Dinner Menu (October 2020)
Our new school dinner menu is now available to download.
Read more ...