At Valence Primary we aim to create a school where PRAISE is central to our aims.
We recognise the commitment of parents, staff and governors in developing a positive partnership. Our children will be able to learn together, achieve together and belong together and will be well prepared to meet the challenges of an ever changing world.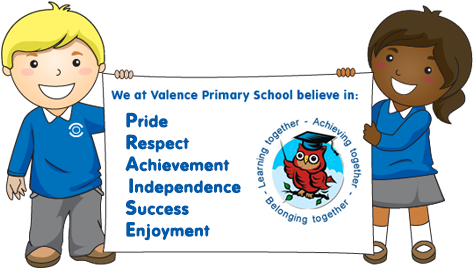 Young Carers at Valence
As part of celebrating Young Carers Awareness Day today, some of our young carers filmed a video about their experiences of what it is like for them to be a young carer.
Read more ...
April Science Challenge
Get involved in our April Science Challenge - Making a water gauge.
Read more ...
Is your child due to start school in September 2021?
If your child was born between 1 September 2016 and 31 August 2017, they can start school in September, there is still time and you can apply.
Read more ...
Times Tables Rockstars - Rock Down Relief
To mark the awesome date that was 12th March 2021 (12-3-21, which reads the same forward as backwards) and to make maths exciting and high profile in our school, we held a Battle of the Bands in aid of Red Nose Day.
Read more ...
Toys/Resources for St. George's Early Years
Nursery and Reception are currently looking at topping up the number of toys and resources we have available for children in Early Years.
Read more ...
Return to School Progress
We are pleased to say that the wider re-opening of Valence has gone smoothly so far. Thank you for your sustained diligence.
Read more ...
March 2021 Newsletter
Keep up to date with news from across both sites and upcoming events with our monthly newsletters.
Read more ...
Risk Assessment & Home School Agreement March 2021
Please see the downloads below for our current Risk Assessment, Home School Agreement & Plan for Remote Learning.
Read more ...
World Book Day Mystery Readers
The staff at Valence have been joining in the preparation for World Book day with some mysterious recordings... Can you guess who the Mystery Readers are?
Read more ...