At Valence Primary we aim to create a school where PRAISE is central to our aims.
We recognise the commitment of parents, staff and governors in developing a positive partnership. Our children will be able to learn together, achieve together and belong together and will be well prepared to meet the challenges of an ever changing world.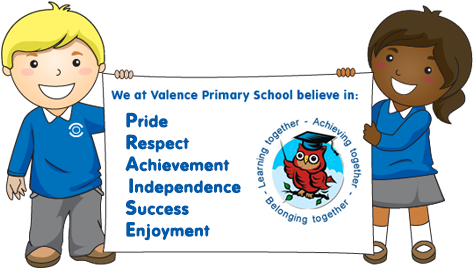 Valence Primary school is located over two sites, Bonham Road and St. George's Road. Please check our Contact Page before visiting to ensure you are visiting the correct site before you arrive.

Visit our new Family Support Hub! You will find links, guides, documents and other resources to help support your family and easy access to all of our support pages.

Valence Wins 2022 Ballerz League Cup
Congratulations to the Valence Year 4 & 5 boys football team on winning the Ballerz League Cup!
Read more ...
The Big Debate Club: Should a country ever go to war?
Join us for The Big Debate Club, this week we discuss 'Should a country ever go to war?'
Read more ...
Star of the Week & House Points 24/06/2022
Well done to all of our 'Star of the Week' pupils from the week ending 24th June 2022. Keep up the good work.  
Read more ...
Sports Day 2022
Please find below details of our confirmed sports days for each site.
Read more ...
Barking and Dagenham Carnival 2022
The Barking and Dagenham Carnival is back, taking place this year on 9th July at Barking Learning Centre.
Read more ...
Year 6 Relationship and Health Education 2022
Further to the parent meeting that took place on Thursday 9th June, the two Year 6 Sex Education lessons which are part of the Relationship and Health Education curriculum, will be taught the week beginning 11th July.
Read more ...

Visit our Admissions page if you are interested in enrolling your child at Valence. You can also get to know our Nursery and Reception staff.

Visit our 
Gallery Page
 to see more pictures.