At Valence Primary we aim to create a school where PRAISE is central to our aims.
We recognise the commitment of parents, staff and governors in developing a positive partnership. Our children will be able to learn together, achieve together and belong together and will be well-prepared to meet the challenges of an ever-changing world.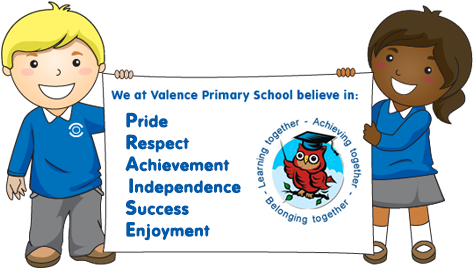 Visitors, please note that Valence Primary School is located over two sites, Bonham Road and St. George's Road. Please check our Contact Page before visiting to ensure you are visiting the correct site before you arrive.

We would like to invite all year five parents/carers to a talk regarding the Bradwell Residential Trip that will be taking place in June 2024.
Read more ...
If you missed our Trewern 2024 initial interest meeting you can download and view the slide show here.
Read more ...
The Healthy Lifestyles Team are running free community HENRY programmes to help local children and families move more, eat healthy and ultimately live a healthier life.
Read more ...
The slide shows from our 2023 welcome meetings are available to download here.
Read more ...
If your child is in Year 6 of their primary education and will be moving to year 7 in September 2024, you will need to apply for a secondary school place.
Read more ...

Visit our new Family Support Hub! You will find links, guides, documents and other resources to help support your family and easy access to all of our support pages.
Visit our Family Support Hub >>
Meet our Wellbeing Team >>
Visit the Roost >>

Visit our Admissions pages if you are interested in enrolling your child at Valence Primary School.
Nursery Admissions Page >>
Reception Admissions Page >>
In year Admissions Page >>

Visit our 
Gallery Page
 to see more pictures.