At Valence Primary we aim to create a school where PRAISE is central to our aims.
We recognise the commitment of parents, staff and governors in developing a positive partnership. Our children will be able to learn together, achieve together and belong together and will be well prepared to meet the challenges of an ever changing world.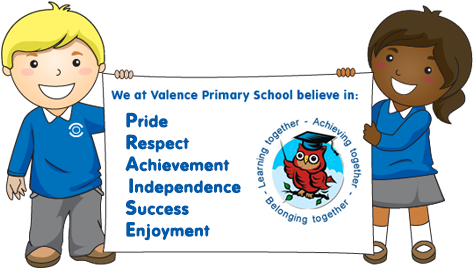 Summer Break
We hope you have an enjoyable and safe summer break, we will see you on Tuesday 2nd September 2021 ready for the new school year.
Panathlon Leaders Award
Everyone at Valence Primary is hugely proud of Miriam who was presented with the Panathlon Leader's Award today.
Read more ...
Meet the Early Years Team
If your child is starting Nursery or Reception at Valence in September you can watch a short video of their teacher reading to introduce themselves.
Read more ...
Year 6 Performance 2021 - Reach for the Sky
Our Yr6 production this year was the fantastic Reach for the sky.
Read more ...
Year 6 Awards 2021
Find out which year 6 pupils picked up awards in their last year at Valence.
Read more ...
Sports Day 2021
Catch up on this year's Sports Days with our picture gallery.
Read more ...
July 2021 Newsletter
Keep up to date with news from across both sites and upcoming events with our monthly newsletters.
Read more ...
Summer Reading Challenge 2021
The Summer Reading Challenge takes place over the summer holidays throughout the UK.
Read more ...
Get Active Programme Summer Holidays 2021
It can be tough for parents finding things to occupy little ones during the holidays, that's why Barking and Dagenham Council are hosting a variety of sports and physical activity camps.
Read more ...