At Valence Primary we aim to create a school where PRAISE is central to our aims.
We recognise the commitment of parents, staff and governors in developing a positive partnership. Our children will be able to learn together, achieve together and belong together and will be well prepared to meet the challenges of an ever changing world.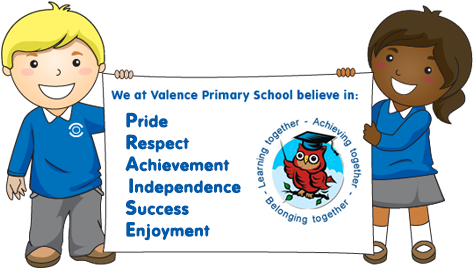 Summer Break
Enjoy the summer break, we are looking forward to the start of term on Thursday 3rd September.
End of Year Update
A final word of thanks from the staff at Valence for your commitment to your children during this unprecedented time of lockdown. Thank you for supporting home learning and for engaging with the school, as we have tried to provide the best that we can.
Read more ...
Remote Learning Update
As we come to the end of the summer term, we will begin reducing access to Google Classroom and ClassDojo.
Read more ...
School Meal Voucher for the Summer Holiday
Attention - Free School Meals parents/carers ONLY... 
Read more ...
Valence Pupil Featured in Home Debate Club
Home Debate Club is growing in popularity with our pupils as more join in to debate every week.
Read more ...
Multi-Activity Holiday Camps
Premier Education Holiday Camps provide a safe, fun and social place for your child to be throughout the summer.
Read more ...
Year 6 End
It is clear to everyone that pupils have had a year 6 experience that was so far from what we had hoped for and expected.
Read more ...
Meet Your New Teacher
You can find out about your teacher next year at Valence on this page. Just scroll down to find your new teacher to find out some more information about them.
Read more ...
Travelling to School on Public Transport in September
For those pupils in Year 6 who will be travelling to their new school in September, this is a video from TFL sharing information about travelling on public transport.
Read more ...