At Valence Primary we aim to create a school where PRAISE is central to our aims.
We recognise the commitment of parents, staff and governors in developing a positive partnership. Our children will be able to learn together, achieve together and belong together and will be well prepared to meet the challenges of an ever changing world.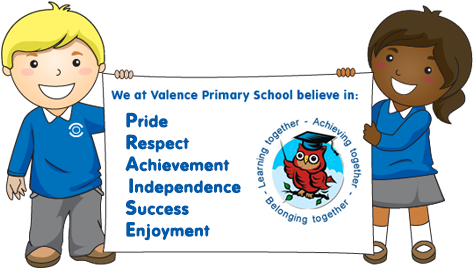 2021 Panathlon Games
Children from both sites had a wonderful time competing in the Panathlon Games on Monday.
Read more ...
The Big Debate Club: Restoration and Renewal
Join us for The Big Debate Club, this week we discuss 'Restoration and Renewal'.
Read more ...
Free Online Maths Club the Summer Holidays
To support children after a challenging year, The Maths Factor is releasing a free new summer course: Summer Adventure.
Read more ...
Vaccine Information
Vaccination is one of our most effective defences against Covid-19, everyone over the age of 21 is now eligible for a vaccine.
Read more ...
June 2021 Newsletter
Keep up to date with news from across both sites and upcoming events with our monthly newsletters.
Read more ...
Boloh Helpline
Boloh Helpline is a service launched by Barnardo's with funding from the National Emergencies Trust.
Read more ...
Free School Meals (Pupil Premium)
Free school meals are a statutory means-tested benefit that provides a child or young person with meals at school for free.
Read more ...
Curriculum Overviews Summer Term 2 2021
You can download our Summer Term 2 Curriculum Overviews for each year group here.
Read more ...
Let's Go Tokyo! Mass Dance
Everyone at Valence is really proud of our KS2 children for the amazing Let's Go Tokyo! mass dance they performed in the playground today.
Read more ...