At Valence Primary we aim to create a school where PRAISE is central to our aims.
We recognise the commitment of parents, staff and governors in developing a positive partnership. Our children will be able to learn together, achieve together and belong together and will be well prepared to meet the challenges of an ever changing world.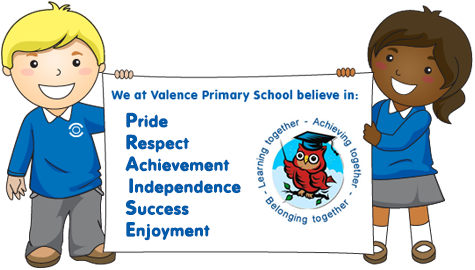 Friends of Valence
Are you keen to support Valence Primary School? Do you have time and energy to give so that the pupils can have a more enjoyable experience?
Read more ...
Football Friendlies
On Wednesday 18th April last, Valence's Year 3 and 4 football teams traveled to William Bellamy school to take part in two friendly matches.
Read more ...
Science Week Inventions - The Finalists
Keep track of our Science Week Inventions Competitions by viewing the finalists entries.
Read more ...
BookTrust: Bath, Book, Bed
The BookTrust have been promoting their Bath, Book, Bed campaign to help make settling down at night easier and to encourage daily reading.
Read more ...
Valence Spring Term 2 Blogs
Our Spring Term 2 blogs have been posted for each year group and from Mr November too. Visit our blog page to catch up with what each year group has been up to this term.
Read more ...
Flower Growing Competition
Nursery and Reception are entering a flower growing competition, can you help?
Read more ...
Rugby Team Wins Silver Medals
Valence travelled to the Barking Rugby Club on a rainy Tuesday 27th March last to take part in the annual Barking rugby primary tournament.
Read more ...
Sport Relief 2018
On Friday 23rd March Valence took part in Sports Relief 2018 with lots of fun, games, sports and people wearing red to go along with all our fundraising.
Read more ...
March Newsletter
Keep up to date with news from across both sites and upcoming events with our monthly newsletters.
Read more ...