At Valence Primary we aim to create a school where PRAISE is central to our aims.
We recognise the commitment of parents, staff and governors in developing a positive partnership. Our children will be able to learn together, achieve together and belong together and will be well prepared to meet the challenges of an ever changing world.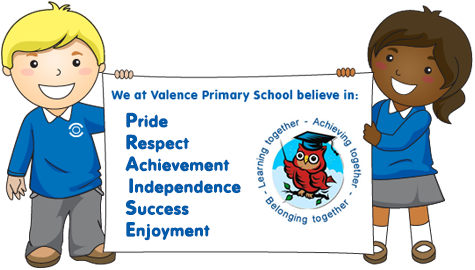 December Science Challenge winners
Well done to the winners of our December Science Challenge. The winners will all receive a magnifier for being super sleuths. 
Read more ...
Looking for an engineer
We are taking part in the Primary Engineer Leaders Award with the support of the Ford Motor Company. 
Read more ...
January 2019 Newsletter
Keep up to date with news from across both sites and upcoming events with our monthly newsletters. 
Read more ...
New 50m pool at Becontree Heath Leisure Centre
Becontree Heath Leisure Centre are proud to announce the opening weekend of their new 50m pool on 26th & 27th January 2019. 
Read more ...
Science Challenge January 2019
Get involved in our January Science Challenge: Re-think your drink, Sugary drinks top ten. 
Read more ...
Valence School Playground Development Plan
Pupils, parents, governors and teaching staff from Valence Primary School are trying to raise £50,000 to make their dreams come true of having an improved playground on both sites. 
Read more ...
Healthy Start Vouchers
Did you know that pregnant mothers and mothers with children under 4 that claim benefits or are entitled to free school meals can apply for healthy start vouchers? 
Read more ...
Term Dates 2019-2020
Keep up to date with the Term Dates, School Holidays and Non-Pupils Days with our 2019-2020 calendar. 
Read more ...
Christmas Gallery 2018
Catch up with the staff and pupils activities during the festive season in our Christmas 2018 picture gallery. 
Read more ...