At Valence Primary we aim to create a school where PRAISE is central to our aims.
We recognise the commitment of parents, staff and governors in developing a positive partnership. Our children will be able to learn together, achieve together and belong together and will be well prepared to meet the challenges of an ever changing world.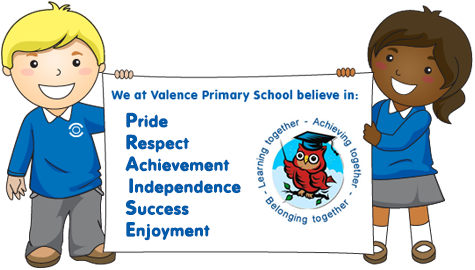 Royal Wedding
We had a great day of games, dressing up, a special lunch menu and tea parties in preparation for the Royal Wedding.
Read more ...
May Football Results
Some great results for our girls and boys football teams this month. 
Read more ...
Wembley Stadium Trip
38 pupils and 4 teachers travelled by tube to take in the electric atmosphere of Wembley Stadium to watch the Ladies FA cup final between Arsenal and Chelsea in the blistering sunshine.
Read more ...
National Walk to School Week 21st - 25th May 2018
National Walk to School Week will run from Monday 21st to Friday 25th May 2018
Read more ...
Star of the Week 04/05/2018
Well done to all of our 'Star of the Week' pupils from the week ending 4th May 2018. Keep up the good work.
Read more ...
Year 4 Production - Save Our Planet
Rehearsals for Year 4's Save Our Planet production are well underway. Here are the details of when and where the performances are taking place.
Read more ...
World Book Day Competition Winners
On World Book Day the children at Valence took part in a competition which involved them using their imagination to design their own book character. 
Read more ...
Science Week Inventions - Bonham
Keep track of our Science Week Inventions Competitions by viewing the finalists' entries.
Read more ...
Nursery Places 2018-2019
Nursery places available! We still have places available for Nursery on both of our sites for next year (2018-2019).
Read more ...