At Valence Primary we aim to create a school where PRAISE is central to our aims.
We recognise the commitment of parents, staff and governors in developing a positive partnership. Our children will be able to learn together, achieve together and belong together and will be well prepared to meet the challenges of an ever changing world.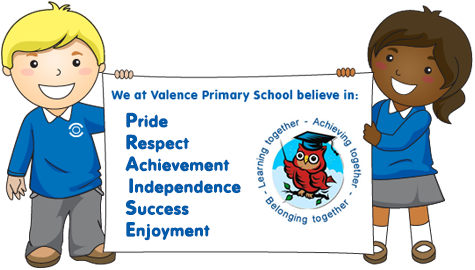 Summer Break
Have a lovely summer, see you back at school 4th September 2019.
Trewern 2019 Pictures
Catch up with what Year 6 got up to on their residential trip to Trewern this year. 
Read more ...
Children's Flower Society Awards
Our gardens are Gold again! 
Read more ...
Staff & Pupils Sports Matches
In the lead up to the summer holidays we have held Staff versus Pupils rounders and netball matches.
Read more ...
Vandome Cycling Skills Course
Vandome Cycling skills course is open to parents. The course starts on Wednesday 24th July in Valence Park and is free. 
Read more ...
Mid-Day Assistant Required
We are looking to recruit enthusiastic people to join our mid-day team. 
Read more ...
Primary Engineers Exhibition
Out of thousands of entries, Stefani and Teona from Garnet class were amongst a few shortlisted in the country, to win a competition to design their own invention for the future.
Read more ...
Measles (MMR vaccine)
Measles: Don't let your child catch it, get them vaccinated with the MMR vaccine. 
Read more ...
July 2019 Newsletter
Keep up to date with news and events at Valence with our monthly newsletter. 
Read more ...