At Valence Primary we aim to create a school where PRAISE is central to our aims.
We recognise the commitment of parents, staff and governors in developing a positive partnership. Our children will be able to learn together, achieve together and belong together and will be well prepared to meet the challenges of an ever changing world.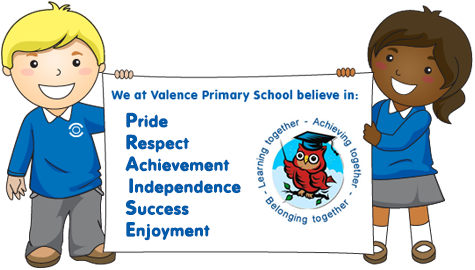 Fortnite: parent factsheet
Fortnite is an online video game where players compete to be the last person standing in a post-apocalyptic world.
Read more ...
July 2018 Newsletter
Keep up to date with news from across both sites and upcoming events with our monthly newsletters.
Read more ...
Ducklings update
As you may have heard from excited pupils our ducklings have finally hatched.
Read more ...
Mischief Makers Summer Reading Challenge
This year's Summer Reading Challenge is Mischief Makers; celebrating the 80th anniversary of the much-loved comic, Beano.
Read more ...
KS1 and KS2 SATs Information for Parents
If you need more information on the KS1 and KS2 SATs results download provided PDF's.
Read more ...
Year 6 Production Schedule Change at Bonham
Due to our fantastic National Football team reaching the semi finals of the World Cup, in order for everyone to watch and enjoy the game, we have moved the Bonham Year 6 evening performance from Wednesday to Thursday evening.
Read more ...
Tag Rugby
Tag rugby is growing in popularity at Valence thanks to our training events and matches.
Read more ...
Sports Days 2018
This summer saw another great set of Sports Day put on by our fantastic PE department. Here are some pictures from the sports days across both sites.
Read more ...
Summer Fetes 2018
Our Summer Fetes were a great success thanks to all the help and support from parents, carers, pupils and staff.
Read more ...