At Valence Primary we aim to create a school where PRAISE is central to our aims.
We recognise the commitment of parents, staff and governors in developing a positive partnership. Our children will be able to learn together, achieve together and belong together and will be well prepared to meet the challenges of an ever changing world.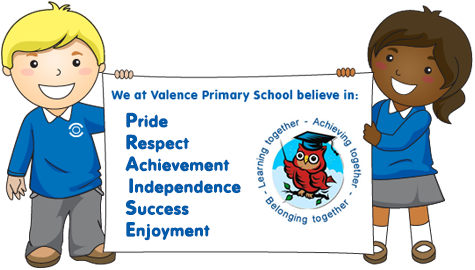 March Science Challenge Winners
Thanks for all the entries to March's Science Challenge, find out who the winners were. 
Read more ...
School Meals Winter Menu
Our new school meals summer menu will be in use when we return from the half-term break. 
Read more ...
Barking and Arsenal Trophy
On Tuesday 2nd April, our Year 2 and 3 football team reached the final of the Barking and Arsenal trophy at Barking stadium. 
Read more ...
Girl Power!
A group of Year 5 and 6 girls celebrated a six week Dove "Free Being Me" Project by wearing their own t-shirt designs to assembly. 
Read more ...
Ancient Greece Day
Year 3 have been learning about Ancient Greece this term, to celebrate this they all came to school dressed as Ancient Greeks. 
Read more ...
April 2019 Newsletter
Keep up to date with news from across both sites and upcoming events with our monthly newsletters. 
Read more ...
Quiz night Winners
Thanks for all coming along to support our Quiz Night on 4th April. We all had a great time and are looking forward to the next event. 
Read more ...
Star of the Week 29/03/2019
Well done to all of our 'Star of the Week' pupils from the week ending 29th March 2019. Keep up the good work.  
Read more ...
Anglo Saxon Day
Year 4 got to dress up for Anglo Saxon Day, catch up with what they got up to and their fantastic outfits. 
Read more ...