At Valence Primary we aim to create a school where PRAISE is central to our aims.
We recognise the commitment of parents, staff and governors in developing a positive partnership. Our children will be able to learn together, achieve together and belong together and will be well prepared to meet the challenges of an ever changing world.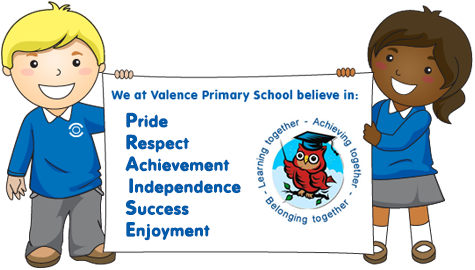 Half-Term Break
The school closes for the half-term holiday on Thursday, 17th October at the usual time.
School resumes on Monday, 28th October.
Star of the Week 11/09/2019
Well done to all of our 'Star of the Week' pupils from the week ending 11th October 2019. Keep up the good work.  
Read more ...
School Meals Autumn/Winter 2019
Our School Dinner menu for Autumn/Winter 2019 will come into effect after half term. 
Read more ...
Half Term Activities
Looking for some activities over half term? RDF Sports and Jet Sports might have what you are looking for. 
Read more ...
No Pupil Day Friday 18th October
Parents and Carers do not forget that Friday 18th October is a non-pupil day. This means your child will not be in school on that day. 
Applying for Secondary School in 2020
Do not forget that parents must apply online no later than 31 October 2019 for their child's secondary school place.  
Read more ...
School Photographer
The School photographer will be visiting the school on Tuesday 29th October to take individual photos of the children.
Please ensure that full school uniform is worn and that hair clips/bobbles are blue. 
Valence Cross Country Success
On Wednesday 2nd October, fifty-four Year 3, 4, 5 and 6 pupils travelled to Mayesbrook Park to take part in the annual Barking and Dagenham Cross Country Championships at Mayesbrook Park. 
Read more ...
Clubs & Parents Evening
Some Clubs will not be running whilst Parents Evening is being held. Parents & Carers will have been contacted if their child's club is cancelled.
If you are unsure please contact the School Office to confirm.