At Valence Primary we aim to create a school where PRAISE is central to our aims.
We recognise the commitment of parents, staff and governors in developing a positive partnership. Our children will be able to learn together, achieve together and belong together and will be well prepared to meet the challenges of an ever changing world.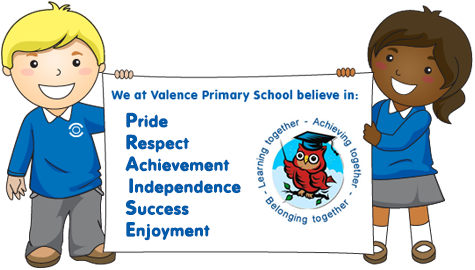 After School Clubs Start This Week
The After School Activity Clubs start up this week, 24/09/2018. Pupils will know in advance which clubs they have been accepted for and which day of the week their clubs are held on.
Read more ...
Star of the Week 14/09/2018
Well done to all of our 'Star of the Week' pupils from the week ending 14th September 2018. Keep up the good work.
Read more ...
360 degree safe Online Safety Mark
Assessors from the 360 degree safe Online Safety recently visited Valence to review the our online safety provision.
Read more ...
Welcome Meeting Presentations
Just in case you missed our Welcome Meetings you can download the presentations we used here as a PDF's.
Read more ...
Macmillan Coffee Morning
Come and join us on 27th September to help raise money for Macmillan Cancer Support by donating cakes or biscuits. 
Read more ...
Nursery places available!
We have places available for Nursery for this year across both sites.
Read more ...
Parent Survey Results
Dear parents and carers. In July 2018, the school carried out an online and paper survey for parents to respond to, and we have uploaded the results for you to download as a PDF.
Read more ...
September 2018 Newsletter
Keep up to date with news from across both sites and upcoming events with our monthly newsletters.
Read more ...
Welcome Meetings Years 4,5,6 & Reception
We are holding meetings for parents of pupils in years 4,5,6 and Reception to welcome you all to the start of the new academic year.
Read more ...