At Valence Primary we aim to create a school where PRAISE is central to our aims.
We recognise the commitment of parents, staff and governors in developing a positive partnership. Our children will be able to learn together, achieve together and belong together and will be well prepared to meet the challenges of an ever changing world.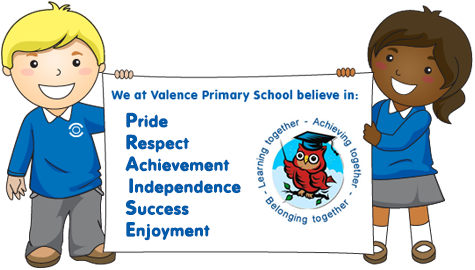 Science Week 2018
British Science Week 2018 ran from 9th-18th March. We took part at Valence with themed assemblies, lessons and experiments for the pupils to dive into.
Read more ...
Sports Relief 2018
This year we are really excited to be raising money for Sports Relief 2018. This brings the entire nation together to do something to raise money to help others.
Read more ...
No After School Clubs This Week
After School Clubs finished on Friday 16th March, this does not include GEMS.
Coffee Morning Thursday 22nd March
Valence Park has received funding to install brand new sports & playground equipment, find out more at our Coffee Morning.
Read more ...
Nursery Places 2018-2019
Nursery places available! We still have places available for Nursery on both of our sites for next year (2018-2019).
Read more ...
Star of the Week 09/03/2018
Well done to all of our 'Star of the Week' pupils from the week ending 9th March 2018. Keep up the good work.
Read more ...
Sugar Smart
We have been holding Sugar Smart Workshops this week as part of Science Week.
Read more ...
World Book Day 2018
We held World Book Day a little later than planned this year due to the adverse weather, luckily the weather had no adverse effects on the effort put in by pupils and staff.
Read more ...
Free Sports Camp Session this Easter
 Fit for Sport are holding a Free Activity Camp taster session at Becontree Leisure Centre this Easter Half Term.
Read more ...