At Valence Primary we aim to create a school where PRAISE is central to our aims.
We recognise the commitment of parents, staff and governors in developing a positive partnership. Our children will be able to learn together, achieve together and belong together and will be well prepared to meet the challenges of an ever changing world.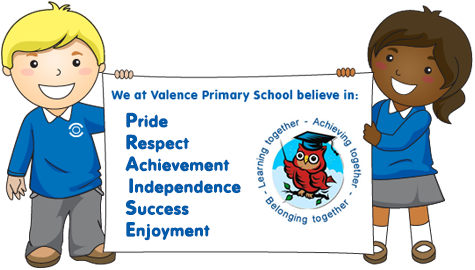 September 2019 Newsletter
Keep up to date with news and events at Valence with our monthly Newsletters.
Read more ...
Helpers Wanted
We are looking for enthusiastic helpers to support children as they learn to read, practise writing or to join in with art activities, science, trips and much more.
Read more ...
After School Clubs at Becontree
Becontree Heath Leisure Centre are running a series of after school sports clubs. You can book online, at their main reception or call 020 3889 6236.
Read more ...
2019 Welcome Meetings
We are holding our Welcome Meetings next week for year groups 1 to 6. Check the time and place for your relevant meeting below. 
Read more ...
Moving to Secondary School in 2020
If your child was born between 01 September 2008 and 31st August 2009 the will be moving to a sceondary school in 2020. This is not an automatic process though. 
Read more ...
Trewern 2019 Pictures
Catch up with what Year 6 got up to on their residential trip to Trewern this year. 
Read more ...
Children's Flower Society Awards
Our gardens are Gold again! 
Read more ...
Staff & Pupils Sports Matches
In the lead up to the summer holidays we have held Staff versus Pupils rounders and netball matches.
Read more ...
Primary Engineers Exhibition
Out of thousands of entries, Stefani and Teona from Garnet class were amongst a few shortlisted in the country, to win a competition to design their own invention for the future.
Read more ...