At Valence Primary we aim to create a school where PRAISE is central to our aims.
We recognise the commitment of parents, staff and governors in developing a positive partnership. Our children will be able to learn together, achieve together and belong together and will be well prepared to meet the challenges of an ever changing world.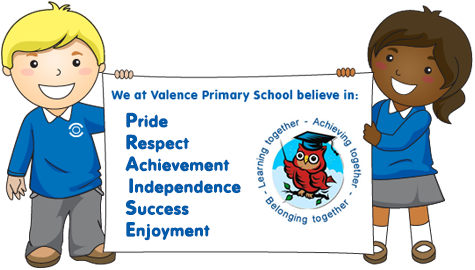 Inset Day - Friday 15th February
Polite reminder - school will be closed this Friday, 15th February for teacher training.
Also, the following week (Monday, 18th to Friday, 22nd February) for half term holidays. Back to school on Monday, 25th February.
February 2019 Newsletter
Keep up to date with news from across both sites and upcoming events with our monthly newsletters. 
Read more ...
Star of the Week 01/02/2018
Well done to all of our 'Star of the Week' pupils from the week ending 8th February 2019. Keep up the good work. 
Read more ...
Cheshunt Residential Trip
The Year 6 pupils from St. George's ARC have had a wonderful time on their busy residential trip. 
Read more ...
Ofsted Inspection January 2019
On the 16th January 2019, Valence Primary School received an Ofsted Inspection. We are pleased to announce that our standard 'continues to be good'. 
Read more ...
No clubs this week
Don't forget that there are no after-school clubs this week due to parents evening (this does not affect GEMS).
January Science Challenge Results
Well done to all the entrants of our January Science Challenge. All entrants receive a certificate and small prize. 
Read more ...
Advice on screen time and social media use
Technology can be a wonderful thing but too much time sitting down or using mobile devices can get in the way of important, healthy activities. 
Read more ...
Science Challenge February 2019
Get involved in our February Science Challenge to create a new animal. 
Read more ...