At Valence Primary we aim to create a school where PRAISE is central to our aims.
We recognise the commitment of parents, staff and governors in developing a positive partnership. Our children will be able to learn together, achieve together and belong together and will be well prepared to meet the challenges of an ever changing world.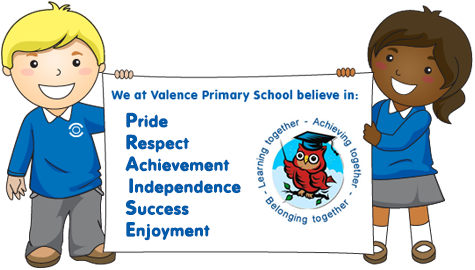 Sports Day
We have set the dates for our Sports Days for each site and each year group. You can find all the details you need to know below.
Read more ...
Privacy Notice for Parents/Carers
Under data protection law, individuals have a right to be informed about how the school uses any personal data that we hold about them.
Read more ...
Valence Reach Rugby Final Again!
Following the success of our Year 5 and 6 tag rugby team playing in the Barking Rugby tournament final and receiving silver medals in March, it was our younger year 3 and 4's opportunity to compete.
Read more ...
B&D Girls Cricket Tournament
On Tuesday 22nd May, our year 5 and 6 girl's travelled to Robert Clack Leisure Centre to compete in the Barking and Dagenham girl's Cricket tournament. 
Read more ...
Star of the Week 18/05/2018
Well done to all of our 'Star of the Week' pupils from the week ending 18th May 2018. Keep up the good work.
Read more ...
May 2018 Newsletter
Keep up to date with news from across both sites and upcoming events with our monthly newsletters.
Read more ...
Year 4 Boys Football
Our year 4 football team continued their winning ways following last weeks impressive win. The players knew they needed to tighten up in defence and they did just that. 
Read more ...
Royal Wedding
We had a great day of games, dressing up, a special lunch menu and tea parties in preparation for the Royal Wedding.
Read more ...
May Football Results
Some great results for our girls and boys football teams this month. 
Read more ...