At Valence Primary we aim to create a school where PRAISE is central to our aims.
We recognise the commitment of parents, staff and governors in developing a positive partnership. Our children will be able to learn together, achieve together and belong together and will be well prepared to meet the challenges of an ever changing world.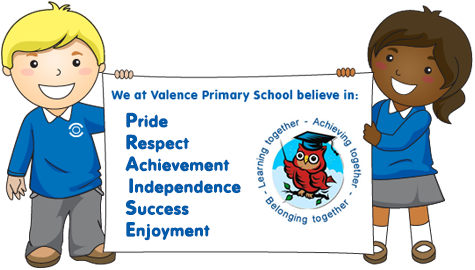 Star of the Week 15/11/2019
Well done to all of our 'Star of the Week' pupils from the week ending 15th November 2019. Keep up the good work.  
Read more ...
Books for Topics
Find books of all genres for every year group in primary school. 
Read more ...
Pudsey Comes to Valence
Valence had a visitor for Children In Need, Pudseywas kind enough to pop in and say hello!
Read more ...
No Pens Day 2019
Catch up with the pupils and their activities on No Pens Day. 
Read more ...
Reading Workshops
For those of you who missed our Reading Workshops or just need a recap, we have uploaded the slideshows from the recent workshops.
Read more ...
Superhero Design Competition
We have noticed that the entrances to Valence Park need jazzing up! We want to bring some colour and fun to the park.
Read more ...
Indoor Athletics November 2019
On Tuesday 5th November Valence travelled to the Sydney Russel school to take part in the first heat of the borough indoor athletics competition.
Read more ...
Nursery Places Available
We have Nursery places available at our St. George's Road Site.
Read more ...
November 2019 Newsletter
Keep up to date with news and events at Valence with our monthly Newsletters. 
Read more ...