At Valence Primary we aim to create a school where PRAISE is central to our aims.
We recognise the commitment of parents, staff and governors in developing a positive partnership. Our children will be able to learn together, achieve together and belong together and will be well prepared to meet the challenges of an ever changing world.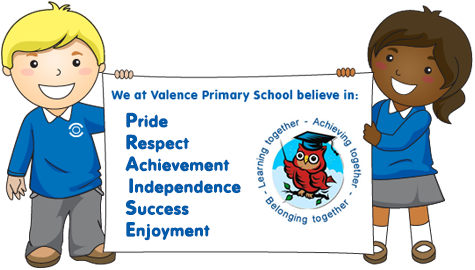 Star of the Week 09/11/2018
Well done to all of our 'Star of the Week' pupils from the week ending 9th November 2018. Keep up the good work.
Read more ...
Valence Win Evans Moore Cup
Valence are the Evans Moore Cup Winners for the second time in the twenty year history of the cup and the second year in a row! 
Read more ...
Conker Competition
Our Autumn Science Challenge was to find the 'Biggest and the Best' conker. We had some great entries that were judged by size and weight. 
Read more ...
BBC Children in Need 2018
The BBC Children in Need Charity will hold its fundraising day next week. In support of this event we will be encouraging children to wear something yellow or spotty or both on Friday 16th November.
Read more ...
St. George's year 1 Reading Workshop
Due to high demand, the Reading Workshop for St. George's Year 1 has now had to be moved to Monday 19th November at 9:00 am in the Performing Arts Hall.
Apologies for any inconvenience caused.
Year 5 Residential Trips in 2019
Just in case you missed our meetings about the Year 5 Residential Trips in 2019 you can catch up with the details here. 
Read more ...
No Pens Day Wednesday
We held No Pens Day Wednesday on Wednesday 31st October. We all really enjoyed putting our pens and pencils down for the day to take a different approach to learning.
Read more ...
Barking & Dagenham 4x4 Basketball
Well done to our year 5 and 6 basketball teams for picking up medals in the Barking & Dagenham 4x4 Basketball competition. 
Read more ...
Reading Workshops
We would like to invite parents and carers to our Reading Workshop with your child, to share practical tips and advice on how to support your child with reading at home. 
Read more ...