At Valence Primary we aim to create a school where PRAISE is central to our aims.
We recognise the commitment of parents, staff and governors in developing a positive partnership. Our children will be able to learn together, achieve together and belong together and will be well prepared to meet the challenges of an ever changing world.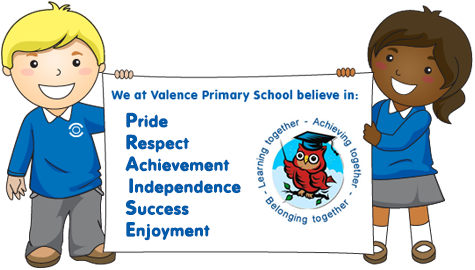 Star of the Week 70/12/2018
Well done to all of our 'Star of the Week' pupils from the week ending 7th December 2018. Keep up the good work. 
Read more ...
After School Clubs
Don't forget that After School Clubs will finish today, Friday 14th December (this does not affect GEMS).
Coats for Playtime
With the colder weather upon us, we would like to remind parents and carers to make sure pupils bring coats to school with them. Pupils without coats will not be allowed to go out at playtime due to the cold weather.
Magic Breakfast!
Don't forget that our free 'Magic Breakfasts' start on Wednesday 12th December 2018. 
Read more ...
Hour of Code 2018
We held our Hour of Code activities last week across both sites as part of our push to include more coding based learning into the classroom. 
Read more ...
Public Health Winter Newsletter
Please download and read the winter newsletter from Public Health England London. 
Read more ...
What's Going On in December 2018
Stay in the loop with dates and times during this busy time of year. 
Read more ...
December 2018 Newsletter
Keep up to date with news from across both sites and upcoming events with our monthly newsletters. 
Read more ...
Science Challenge December 2018
Collect and label fallen leaves. How many different varieties can you find? 
Read more ...