At Valence Primary we aim to create a school where PRAISE is central to our aims.
We recognise the commitment of parents, staff and governors in developing a positive partnership. Our children will be able to learn together, achieve together and belong together and will be well prepared to meet the challenges of an ever changing world.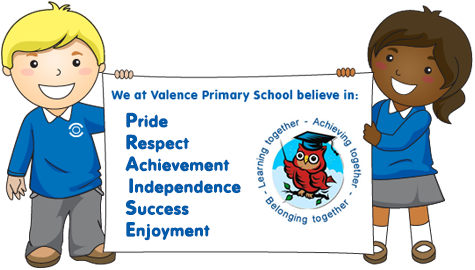 Year 5 and 6 Tag Rugby
Our Year 5 and 6 tag rugby players are back from their latest's competition at the Robert Clack School Leisure Centre.
Read more ...
Elizabeth Cup Best Garden in London
Another award has been scooped by our pupils and staff, this time from the London Children's Flower Society. 
Read more ...
Star of the Week 12/10/2018
Well done to all of our 'Star of the Week' pupils from the week ending 12th October 2018. Keep up the good work.
Read more ...
Safety First Tips
With autumn nights drawing in and the half-term holiday approaching, we wish to share a few safety tips. 
Read more ...
School Meals Winter Menu
Our new school meals winter menu will be in use when we return from the half-term break. 
Read more ...
Privacy Policy Update
We have recently updated our Privacy Policy, under data protection law, individuals have a right to be informed about how the school uses any personal data that we hold about them.
Read more ...
Year 5 Boys Football Result
Well done to our Year 5 boys football team. They secured a great win over our neighbours St. Joseph's in a home match on Monday.
Read more ...
Greenwich ObservatoryTrips
Year 5 have been visiting the Greenwich Observatory recently, catch up with what they got up with these photos.
Read more ...
Useful websites to support your child at home
The following websites are fro a list compiled by Year 6 of useful websites to aid revision and working at home.
Read more ...