At Valence Primary we aim to create a school where PRAISE is central to our aims.
We recognise the commitment of parents, staff and governors in developing a positive partnership. Our children will be able to learn together, achieve together and belong together and will be well prepared to meet the challenges of an ever changing world.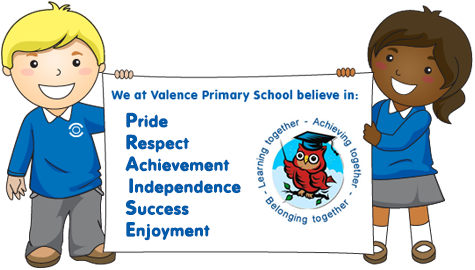 Borough and Me homework competition
The Borough and Me homework competition asks you to think like an urban planner!
Read more ...
Irish Dancing
The Valence linked BrosnaCan Academy of Irish Dance is up for the Tesco Blue token scheme. 
Read more ...
Free Collage Workshop for Mothers & Children
As part of her residency at The White House, artist Wednesday Kim will be hosting a free family-friendly 3D collage Mixed Media workshop for Mothers and Children. 
Read more ...
New School Phone Number
Valence Primary School has a new contact number: 0203 006 9888
Ext 1 for St. George's & Ext 2 for Bonham.
May 2019 Newsletter
Keep up to date with news from across both sites and upcoming events with our monthly newsletters. 
Read more ...
Valence Basketball Teams Played with Style
On the 16th May last, our three basketball teams proudly competed in the 3 x 3 basketball competition at Eastbury Comprehensive school. 
Read more ...
The Chase 2019
Year 4 have been visiting the Chase Nature Reserve recently to investigate the different habitats it offers for wildlife. 
Read more ...
Penathlon Challenge 2019
A group of pupils were proud to represent Valence at the Panathlon Challenge at Becontree Leisure Centre. 
Read more ...
Star of the Week 10/05/2019
Well done to all of our 'Star of the Week' pupils from the week ending 10th May 2019. Keep up the good work.  
Read more ...