Keeping Safe
Keep safe and up to date with our E-Safety and Child Safeguarding  literature below.
PDF's
Be Bright Be Seen (PPSM) Be Bright Be Seen (PDF)Childline Underwear Rule Bullying Leaflet
Know someone experiencing domestic violence?
1 in 3 people don't know how to help someone who is experiencing domestic abuse. The Bright Sky app, which is free to download from the App store and Google Play, provides advice on what to do if someone you know needs help. 
The Bright Sky app is available on the App Store and Google Play. 
Keeping Safe Online (E-safety)
As a child of a technological age, you have grown up around technology in school and also possibly at home. You have never known a time without a computer, laptop or the Internet - and might even be better than your parents!
Although you might be able to use technology and the Internet easily, you still face the same dangers as anyone else that uses the Internet, just like your parents. You could still see inappropriate websites and images; be the victim of cyber bullying, or receive spam emails so it is really important that we know how to use technology and the Internet safely.
However, don't be scared about using the internet because it is a FANTASTIC resource and you can find out nearly anything that you want to know! 
KidSMART
We promote a SMART approach to internet safety at Valence, the SMART acronym can help you decide how to react safely whilst online. Visit the KidSMART website (www.kidsmart.org.uk) to find out more and find lots of fun e-Safety activities, KidMSART are supported by Childnet International (www.childnet.com)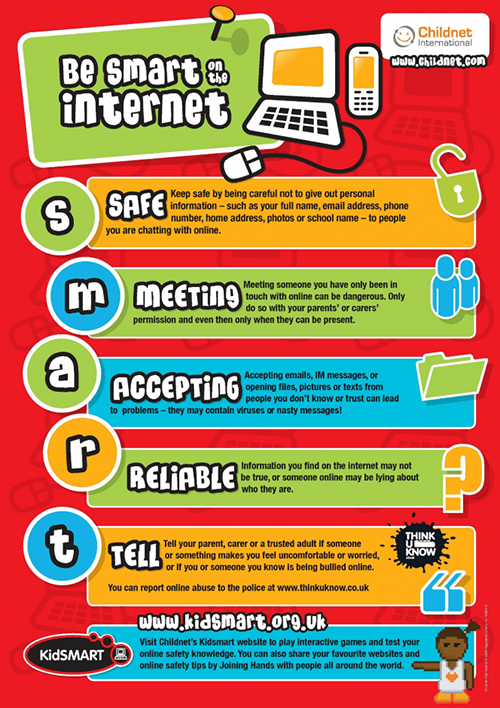 Zip it – Block it – Flag it
Zip it – Block it – Flag it are another great set of rules to follow whilst online to ensure you keep your personal information safe, block those who send nasty messages and flag anything that upsets you or raises concern.
Safer Internet Week
At Valence we take safer Internet Day a step further with Safer Internet Week, a whole week of assemblies, activities and lessons themed around staying safe whilst online. Safer Internet Week 2017 was great fun for all involved whilst raising the awareness of the dangers online and teaching pupils how to stay safe.
The theme was 'Be the change: unite for a better internet' and we ran the week in February (www.saferinternet.org.uk) providing pupils with lessons and assemblies aimed at promoting safe surfing habits. All classes got involved across both sites with lessons, activities and assemblies promoting  the theme.
If you would like to find out more information, you can speak to your parents, teachers or an adult that you trust. Also, you can visit the links below, which have lots of fun games and activities for you to play!
Reporting to CEOP
CEOP are here to help and give you advice, and you can make a report directly to us if something has happened online which has made you feel unsafe, scared or worried. This might be from someone you know in real life, or someone you have only ever met online.  We take all reports seriously and we will do everything we can to keep you safe. Use the link below to visit the CEOP website, you can also find this report button at the bottom of every page on this website.
Links
PDF's